The best way to find the correct part for your car is the "My Garage" function, which is on the left side of the homepage and in the black section saying "Select Your Vehicle". Choose your Year, Make, Model, and if required, submodel of your vehicle.
Now you can click on items and notice that the site says "IT FITS" near the "Add to cart" button. In cases where the same car uses variations of products based on build or production information, you will still need to verify fitment as demonstrated with brakes below: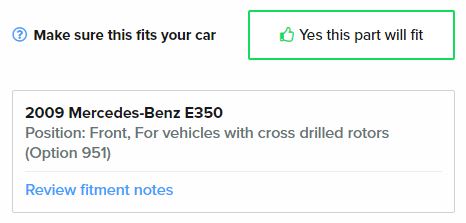 Even though this brake disc is verified to fit a 2009 E350, not every E350 will take this specific rotor unless the car is equipped with option code 951. Options and production nuances are usually clarified by VIN.